In Gnome 3 there's an option available to activate desktop sharing, which behind the dialog is just a VNC server. This option can be found under System Tools -> Preferences -> Desktop Sharing. In the dialog itself you can allow viewing and/or controlling of the desktop.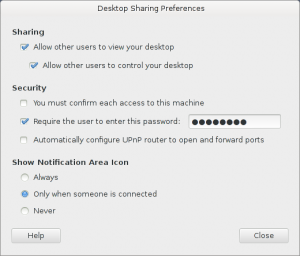 Unfortunately I encountered a problem while connected. The arrow keys where behaving different, the up en down key maximized or minimized the window. After a little search and some attempts to fix this behaviour, I found out the keys did behave as expected when I hit the super (Windows) key at the same time. That was the key for solving this issue.
Fix
Go to System Tools -> Preferences -> System Settings
Click on Keyboard and open the Shortcut tab
On the left pane, select Windows
Select all the actions on the right pane with Super + UP or Super + DOWN
After this, the arrow keys should behave like expected!