Smush.it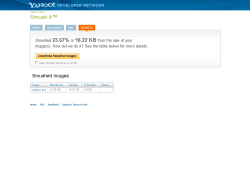 Website: http://www.smushit.com/ysmush.it/
Toepassing:
Weer één van de geweldige tools van het Yahoo Developer Network. In het kort: optimaliseert afbeeldingen waardoor de bestandsgrootte afneemt, maar de kwaliteit behouden blijft. Zelf zegt Smush.it daarover:
Smush.it uses optimization techniques specific to image format to remove unnecessary bytes from image files. It is a "lossless" tool, which means it optimizes the images without changing their look or visual quality.
Old Apps
Website: http://oldapps.com/
Toepassing:
Een verzameling van vele oude versies van vele applicaties. Variërend van de op een na laatste versie tot een van de eerste versies.
Down for everyone or just me?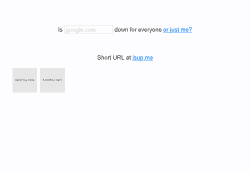 Website: http://www.downforeveryoneorjustme.com/
Toepassing:
Controleer of de opgegeven website voor de gehele wereld onbereikbaar is of dat dat slechts voor jou het geval is. Ideaal om zeker te weten of de te bezoeken site echt onbereikbaar is.